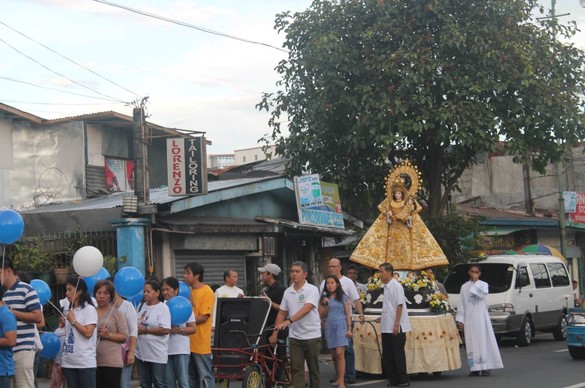 October is considered as the month of the Rosary. Sta. Teresita parish was lucky to have a generous benefactor who donated a beautiful statue of Mary similar to the statue popularly venerated in Manaoag Shrine in Pangasinan. It was blessed during the celebration of the mass on the feast of Our Lady of the Rosary last October 7, 2015. It was placed inside the church for everyone to honor her during this month that is dedicated to her. A procession was held on October 31, 2015 to mark the end of the Rosary month and at the same time to promote the daily praying of the Rosary. Some people who joined the procession were asked to carry balloons to represent the beads of the Rosary; white for Our Fathers and blue for the Hail Marys. The Rosary was being prayed during the entire procession.
Parade of the Saints was integrated in this procession to highlight the celebration of All Saints Day. Children were dressed like the known canonized Saints. This is a way by which the Church is trying to evangelize the people about Halloween. For the past years, the Filipinos used to see scary pranks and bizarre costumes during Halloween with its focus on the "paranormal". Children are dressed by their parents with the attire of fairies, fictional super heroes, vampires, zombies and the likes and go for "trick or treat". The Church finds this as a revival of the pagan observance of Halloween as celebration of "terror, fear and death."
It is about time that this Western influence be changed by giving alternative to the Children who must be given positive images when observing All Saints' Day and All Souls' Day. There were only few children who participated in this parish activity since many children preferred to join Halloween activity organized by secular groups. More efforts still need to be exerted by the parish so that the people be made aware of the religious significance of the feast and to direct its meaning towards wholesomeness and beauty.
The procession ended at the grounds of West Rembo Elementary School where the "Living Rosary" was held. Those holding the balloons were called to form a big Rosary. Each one was assigned to lead a prayer. The mysteries of the Rosary were presented by means of a pantomime while the Gospel for the particular mystery was being proclaimed. A Marian song was sung at the end of each decade. The the celebration of the Mass followed at the parish Church. The Legionaries of the Parish spearheaded this successful event.


-Fr. Richard Magararu, SMM