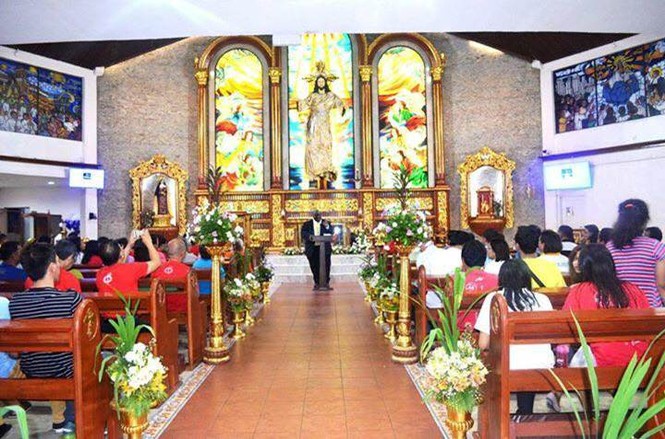 Rev. Harold Burke-Sivers, is globally known as the "Dynamic Deacon"- one of the most sought after speakers in the Catholic Church today. He is a permanent married Deacon from the Archdiocese of Portland, Oregon, USA and serves in the Immaculate Heart of Mary Parish, Oregon. He hosted several popular EWTN series and is a prolific writer as well. On the final day of his tour to the Philippines, he visited Santa Teresita Parish on the evening of August 31, 2015. Fr. Richard Magararu, SMM asked the Ministry of Family Life to invite couples in the parish especially members of the Couples for Christ and the Marriage Encounter group. It was just a short notice but surprisingly a lot of parishioners and guest couples responded to the invitation.

The talk was centered on the family, the beginning as written in the Genesis, redefinition of marriage at present, the challenges of the Catholic Families and how to strengthen family relationships. According to Rev. Burke, the family is presently under assault. Many traditional Catholic countries have fallen to modern culture. Marriage is being redefined to justify same sex union, contraception, abortion and divorce. He encouraged the Filipino families to stay strong to the Catholic faith. We need to look upon the Holy Family; Jesus, Mary and Joseph as a model/witness to the family today. Mary and Joseph were married. They were betrothed, engaged just like others. The Holy Family was not spared from the hardships of family life but they remained faithful, trusted God totally and completely.

The talk was well appreciated because he was speaking from his own experience as a family man. The listeners were all inspired with how he dealt with his wife and his children. He was really a dynamic speaker that two hours of talk is too short for that very deep sharing about family life. The Marriage groups gave simple token of appreciation and everyone would like to take photo souvenir with him especially the youth of the parish. Everybody who were present that evening were filled with joyful spirit as they viewed family life as a wonderful gift from God.


- Rosalinda Igna