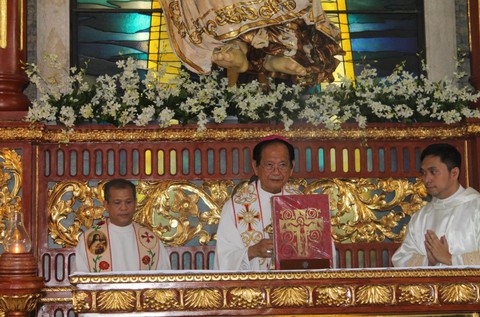 Sta. Teresita Parish celebrated its annual patronal feast day on October 05, 2014, the first Sunday of the month, in collaboration with its Parish Pastoral Council (PPC) and the Youth Pastoral Council (YPC) and the Committee de Festejos under the supervision of the parish priest, Rev. Fr. Richard Magararu, SMM and and the parochial vicar, Rev. Fr. Angelo Pusikit, SMM. This year's theme was "Kapistahan ni Santa Teresita sa Taon ng mga Layko." The celebration was highlighted by a solemn mass at 8:15 AM presided Most Rev. Teodoro Bacani, D.D., Bishop Emeritus of the Diocese of Novaliches.
In his homily the Bishop noticed the beautiful altar, the stained glasses, the beautiful Filipiniana attire of the lectors and commentators as well as the dance of the youth during the singing of the "gloria" and commented that everything was "bongga" (grand). However, he added that the Gospel demanded "bunga" (fruit) of the vineyard as mentioned in the Readings. He challenged the people to bear fruits of their faith. The life of St. Therese of the Child Jesus can give as an example in living Christian virtues of humility, confidence in God and deep faith in Him. The good bishop started preaching his homily in front of the altar but came down and walked around and addressing the people face to face. This unusual gesture was well appreciated and seemed to be powerful to bring out his message.
The Prayer of the Faithful was said by the representatives of the different organizations praying for the needs of the different sectors of the parish like the children and youth, married couples and families, catechists, senior citizens etc.. They looked nice with their simple Filipiniana attire. The offertory procession was joyful because of the dance choreographed by the youth as they accompanied those who are bringing gifts to the altar. Bringers of gifts had to sway a bit as they approached the bishop to the rhythm of the lively offertory song. The theme of this year's celebration aimed to honor the laity was attained in this meaningful mass.
At the end of the mass, Fr. Richard thanked the bishop and the concelebrating guest priests, all of them were Montfort Missionaries except Fr. John Barro, the Vicar Forane and the parish priest of Mary Mirror of Justice parish. He also thanked everyone who made the Fiesta celebration a success. He aknowledged the participation of the Barangay officials led by the Honorable Chairman, Judith Celos.

-Kristian Vincent Dumalaos